I've been thinking about Christmas movies lately because—well, besides the obvious "tis the season"—I'm working on a special project, which I hope to finish and share with y'all later this week. So I decided to do my own list of favorite Christmas movies. There are lots of lists of favorite holiday movies out there, of course, and they're all very subjective. Some may be divisive, depending on what you look for in a Christmas movie. Forbes's list, for example, apparently got some angry comments (shocker) because the author selects some unknown or unconventional films, like Die Hard. Just because a movie takes place around Christmas time shouldn't necessarily make it a Christmas movie.
And yet, for my list, I'm going to include it that way. In fact, full disclosure, my list is looking more like my list of Favorite RomComs That Have a Christmas Theme or Element, and not so much Christmas movies. (I've mentioned here many times my deep, abiding love of romantic comedies.) That said, I am trying to restrict it to movies that are a little more about Christmas or take place during Christmas, rather than just having a Christmas scene in it (like Better Off Dead, When Harry Met Sally, or You've Got Mail).
Part of the reason my list is more "romcom" and less "Christmas" is because, I'm slightly embarrassed to admit, there are several classic Christmas movies that I've never seen. Some I'm not terribly interested in (like Polar Express, Jingle All The Way), some I've seen bits of but couldn't get through (Home Alone, Christmas Vacation, It's a Wonderful Life), and others I just never got around to (The Santa Clause, Arthur Christmas, Miracle on 34th Street). I know some are classics and I really should see them. Maybe I'll get to them this season.
Alright already, so what IS on my list?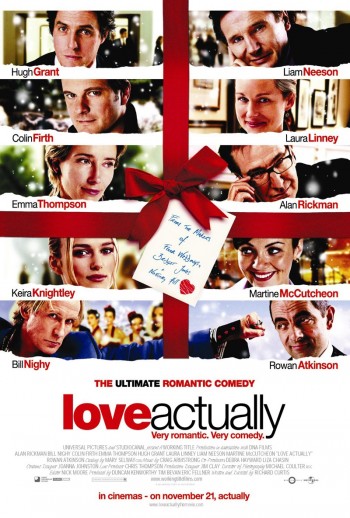 Love, Actually: For some reason, this movie gets some vitriol too, and while I admit there are moments worth picking apart (I, for one, hate Laura Linney's storyline, for example), I still love this movie. I love the romance, the dialog, the highs and lows, the interesting stories, and the love in all its forms. It's hysterically funny yet tearfully heartbreaking. It's also the first of those massive-ensemble-casts-with-intersecting-storylines movies, spawning copycats like Valentine's Day and New Year's Eve, but it's the only one that really works.
Bridget Jones' Diary: Not sure if this should count, but it opens and closes around the Christmas holiday, so I'm going with it. This updated version of Pride & Prejudice (my favorite romcom ever) is a classic. Bridget is definitely less than perfect, constantly getting into embarrassing situations. But that makes her relatable and vulnerable, so we root for her. The movie is sweet and funny, and the cast is charming. And Colin Firth and Hugh Grant fighting over an everyday girl? What more could you ask for?
While You Were Sleeping: Perhaps a more underrated movie, with a fairly strong case of "how could this happen," and yet it's incredibly sweet. Bill Pullman is back to leading man status in this mistaken-identity romcom. Sandra Bullock plays Lucy, a subway attendee who saves a man she's had a silent crush on when he falls on the tracks. When his family meets her in the hospital, where he's in a coma, they think she is his fiancé. She somehow keeps up the charade despite her growing feelings for his skeptical brother (Pullman). It's sweet and charming (Bullock always is), with a strong sense of family.
A Christmas Story: This is my favorite "classic" Christmas movie, and the only actual Christmas movie on my list. Fandango says it was a flop when it first came out, which I find incredibly hard to believe, but Box Office Mojo confirms it as only earning $20 million domestic total gross. How is that possible? I can't imagine Christmas without this classic film. The faux-period piece, that feels like it's from the 1930s but is actually from 1983, is a slice of American life during the holiday. Its funny moments go smoothly with the sweet family moments, and we all find stories and vignettes that we relate to. If you haven't seen this movie, move it to the top of your "must see" list.
Rent: I'm cheating by putting this on here. For one, it's a musical and not really a movie, especially because the movie version of it isn't that good. In fact, I recommend that you get your hands on the live recording of the final performance, rather than watch Chris Columbus's film adaptation. But it takes place around Christmas time, as does its source material, Giacomo Puccini's opera La Bohème. Jonathan Larson wrote this modernized adaptation, and it's a landmark musical in theatre history with its rock score and complex characters.
The Sure Thing: This classic Rob Reiner film has been one of my favorite movies, Christmas or otherwise, since I was a teenager. I adore this movie. It's smart, clever, romantic, and hysterically funny. Like most Reiner films, it's got hugely quotable lines, and I know it by heart—in fact, I once worked a temp job where my boss left early and I had nothing to do, so I started typing out the screenplay. From memory. It's classic Reiner, before When Harry Met Sally or The Princess Bride, and it's John Cusack's first star turn.
Trading Places: Not your traditional Christmas movie, but definitely takes place during the season. This madcap farce has Eddie Murphy and Dan Akroyd at their comedic best, as Wall Street men unknowingly caught in an elaborate social experiment. Jamie Lee Curtis, Denholm Elliott, Ralph Bellamy, and Don Ameche round out the cast, which also includes a cameo by the Muppets' Frank Oz (speaking of La Bohème). Brilliantly funny, and its messages about money and family are still relevant.
Just Friends: This movie is practically the reason I wanted to do a Favorite Christmas Movies list. I love this movie, and it strikes me as a romcom that is perhaps not as well known or appreciated. Ryan Reynolds, in his early channeling-Jim-Carrey days, plays Chris, a successful music producer who gets accidentally stranded in his hometown for the Christmas holiday, where he tries to rekindle a relationship with his best friend and unrequited love from high school, Jamie (Amy Smart). Crazy things happen as Chris ends up in one embarrassing situation after another while he resists becoming the person he once was. What I love so much about this movie is that, no matter how much we try to grow up and change, the second we return home to our parents' house we suddenly revert back to the people we were before. Chris's relationship with his younger brother especially proves this. Plus, Anna Faris plays the selfish, slightly unhinged pop starlet stuck in Chris's care. If you haven't seen it, check it out.
Honorable Mention: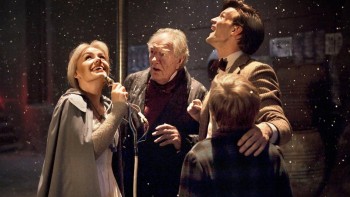 Doctor Who: A Christmas Carol: Technically not a movie, but a Christmas special episode of a television series. Matt Smith is my favorite Doctor (as much as I like David Tennant), and I miss him terribly. He's at his sweetest, funniest best in this retelling of A Christmas Carol for the long-running BBC series. Guest star Michael Gambon is the Scrooge in question, Kazran Sardick, and the Doctor is the ghost, of sorts, taking Sardick back through his life to see what kind of person he ought to be.
So what do you think of this list? Agree or disagree? Any movies on here you haven't seen? What's on your list of favorite Christmas movies?