It looks like Jim Henson was kind of a weirdo.
Not that that's a bad thing. I'm definitely a weirdo too. I have no problem with that.
But apparently his estate recently released some of Henson's early, unpublished journals, in which he describes his early concept of The Muppets. And it's pretty bizarre.
There are a lot of weirdly different things described here, and a very strange tone to the whole piece overall. Henson writes about how he plans to eat the Muppets, once they get fat, simply because "they are delicious." He says Miss Piggy used to rip the front legs off of pigs and wear them around her waist. He says the world will love Fozzie Bear's catchphrase, "I don't belong here! I am not a Muppet! I am a man! Stop laughing!" He describes Rowlf the Dog as a god that the Muppets all worship, burning Professor Honeydew as a sacrifice to him every night. And what I find most intriguing, Kermet the Frog was originally a she.
I can certainly see why a production company would want to change a lot of these characteristics before producing the show.
But the bigger question, perhaps, is whether or not this is actually real. I have to confess that my spider senses don't fully allow me to believe it, and Clickhole, who reported the story, doesn't offer any links or references to support their claim. I did a quick Google search and all the articles that come up refer to (or outright plagiarize) the Clickhole story. So I wonder.
But even if it is fake (and why would they make it up?), it's pretty entertaining (hell, it's laugh out loud funny!) to read and consider the ideas.
Here's the first page, but click the Clickhole link to read the rest of the pages. It's worthwhile.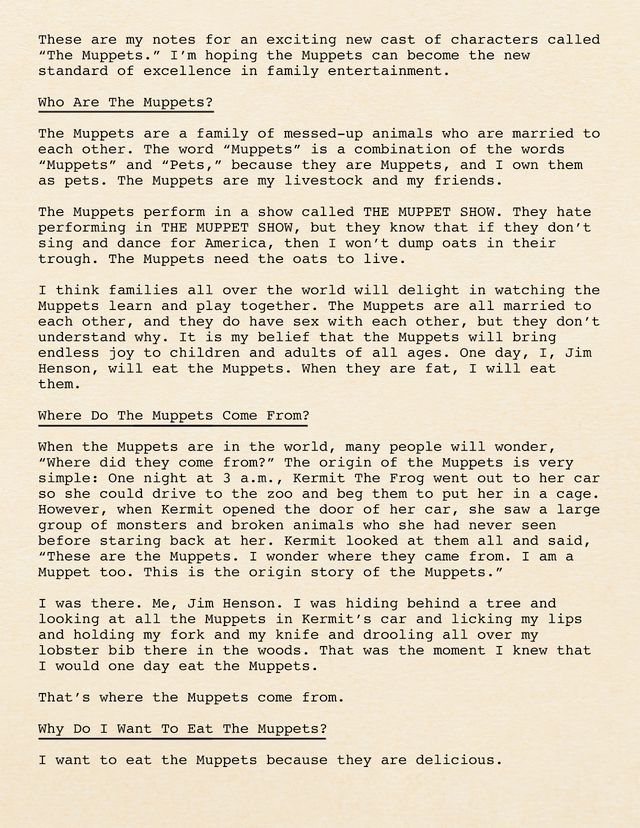 So what do you think, readers? Could this be real? Would you watch this original incarnation of The Muppet Show? And would you like it better than the real one?