About Renée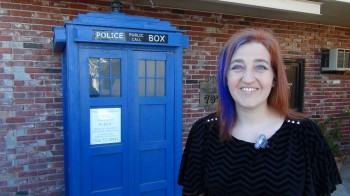 Although the "About Geek Adjacent" page is really also about me, I thought you'd like to know more about me personally, as opposed to just why I call the blog Geek Adjacent. 🙂
I'm a writer, editor, and former dancer/dance historian with a huge passion for the arts and pop culture. I married my brilliant husband Alex, an illustrator, graphic designer, and budding filmmaker, in 2004. We lived in Washington D.C. for years with a wonderful group of friends and a beautiful house with a ballroom in it (yes, a ballroom), but we were locked in comfortable jobs that were creatively unfulfilling. While we love D.C. and miss it, and of course our friends, very dearly, we grew tired of the local business: politics and government. We both hate politics and love entertainment, so we decided instead to go where the local business is entertainment.
In July 2012, with no jobs lined up, we packed our two beautiful kitties in the car and moved across the country to Burbank, California. We contacted all our friends from high school and college, most of whom we hadn't seen in years, as well as friends we met on an annual nerd cruise (largely the inspiration for our moving to L.A. in the first place). They all are amazing people who were more than willing to help us out, putting us up while we looked for an apartment, giving us advice, and making us feel welcome. We took classes in our respective career choices, Alex in animation and motion graphics, and me in entertainment journalism, and lived off the sale of our house. We're finally starting to do some work in this town, and though money is tight, we love our new surroundings.
I've written about dance, television, and dance on television for Los Angeles magazine and the website Reel Life with Jane. I'm currently assisting director and producer Susan Glatzer with her documentary on swing dance, and doing some freelance fact-checking with Gayot publications. Alex is working full-time on the Discovery channel show "Naked and Afraid," where he has the oh so glamorous job of blurring out all the naughty bits…and some motion graphics. It's pretty cool. I've also been exercising my video journalism and film editing skills with celebrity interviews and movie reviews, available here, or on my YouTube channel.