For a little #FridayFluff, I present to you:
Moments of Pride and Prejudice: A Study in Gifs
(This is a display of the new skill I learned this week, and a celebration of my raving fangirlishness, as silly as it may feel.)
I absolutely adore Joe Wright's 2005 film adaptation of Pride and Prejudice, with Keira Knightley and Matthew MacFadyen. I love the definitive Colin Firth six-hour mini-series as well, but Wright does such a great job of capturing the story and its complex characters in a tight two hours, and it's wonderful.
I love the whole movie from start to finish, but there are definitely moments I adore. Sometimes, when I get truly obsessive, I'll watch just the parts I adore and skip the rest. Here are some of those moments.
I love how quickly it gets into this: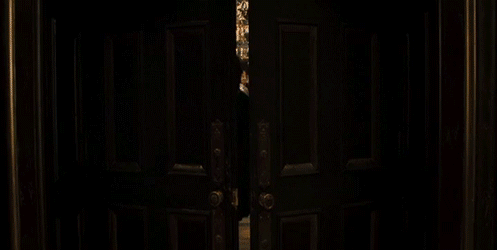 Mr. Darcy does a double take when he sees Lizzie, but he's too uncomfortable to look her in the eye.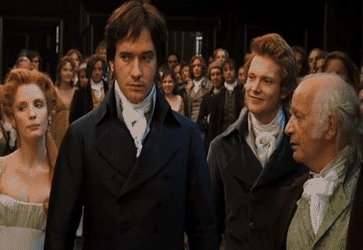 He makes things worse when he insults her behind her back, but doesn't realize that she overhears him. But she gives him the what-for:
Darcy: What do you recommend to encourage affection?

Lizzie: Dancing. Even if one's partner is barely tolerable.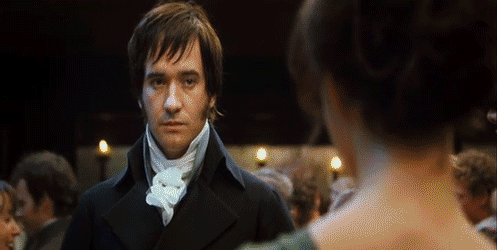 Lizzie walks to Netherfield to visit Jane, and encounters an incredulous Darcy and Caroline.
Mr. Bingley is jovial while Darcy, Caroline, and Lizzie discuss the concept of a "truly accomplished woman."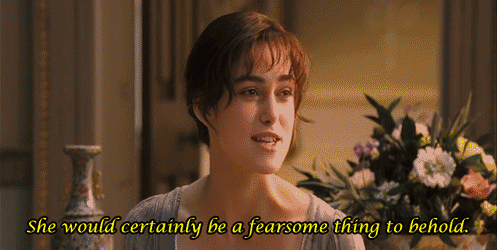 Darcy, however, is not so easily amused, allowing Caroline another shot at Lizzie.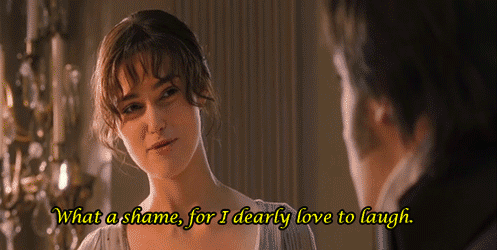 Mary professes her preference for conversation, instead of dancing, as a more rational way of gaining acquaintance.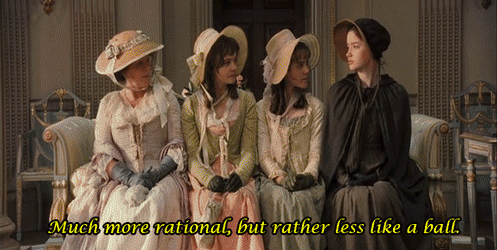 Darcy helps Lizzie into the carriage—and seems disgusted by her touch.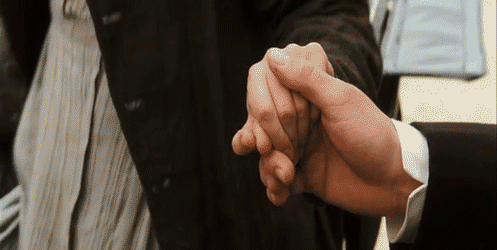 Darcy sees Lizzie at the Netherfield Ball (The entire scene at Netherfield is amazing, especially the impressive long shot.)
They share such an invigorating, intense dance . . .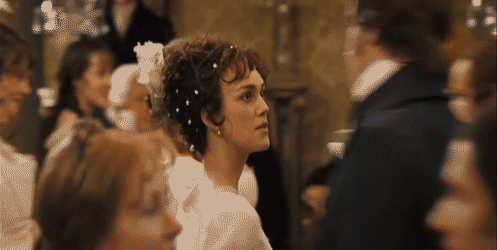 . . . that everyone else disappears.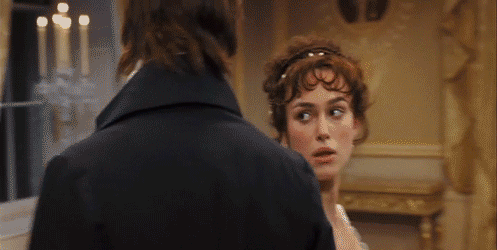 When Darcy sees Lizzie at Rosings, he admits how awkward and uncomfortable he is around strangers.
Darcy: I do not have the talent of conversing easily with people I've never met before.

Lizzie: Perhaps you should take your aunt's advice and practice.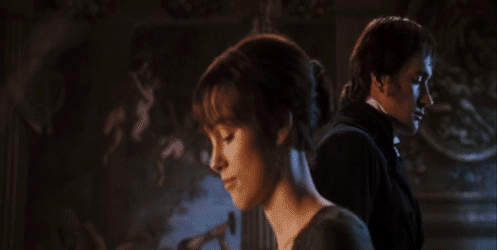 Mr. Darcy surprises Lizzie while Collins and Charlotte are out . . . (Dun dun dun!)
. . . but leaves in a hurry when Charlotte returns.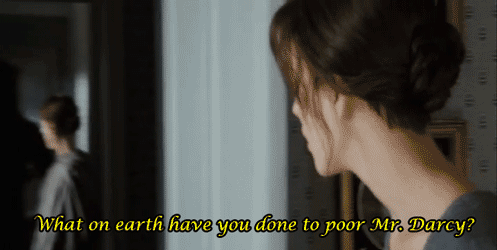 Finally, Darcy professes his love for Lizzie (in the rain, of course) . . .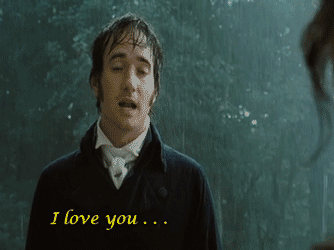 . . . but with some pretty insulting reservations. The tension is palpable.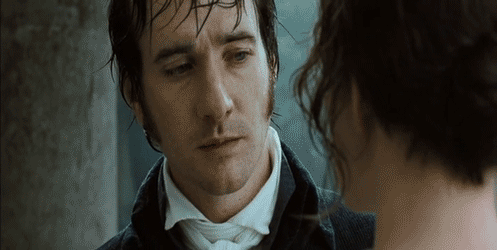 Lizzie tours the country with her aunt and uncle, and discovers what some say made her actually fall in love with Darcy.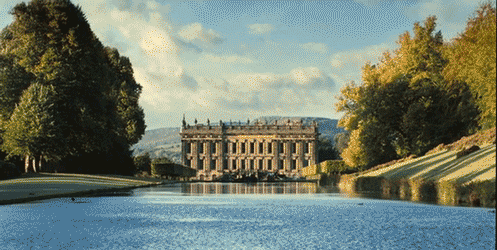 They have an oh-so-awkward run-in at Pemberley, and Lizzie leaves in a hurry.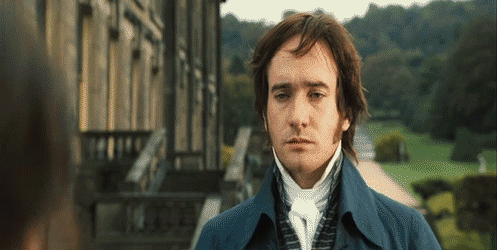 At least Darcy made an impression on Mrs. Gardner.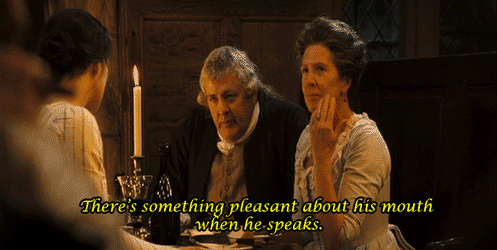 Georgiana knows how Lizzie and Darcy really feel about each other.
Lizzie gets some bad news from her family.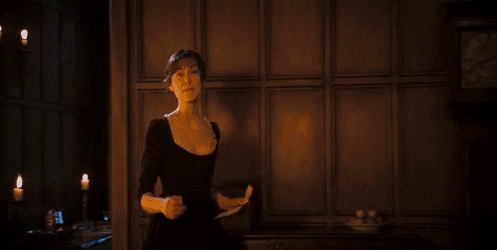 This gif perfectly sums up Lizzie mother, Mrs. Bennet.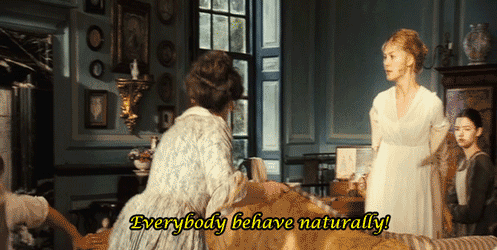 Mr. Bingley sums things up pretty well, too.
Darcy comes to see Lizzie in the early morning hours (Matthew MacFadyen's take on the classic Colin Firth lake scene) . . .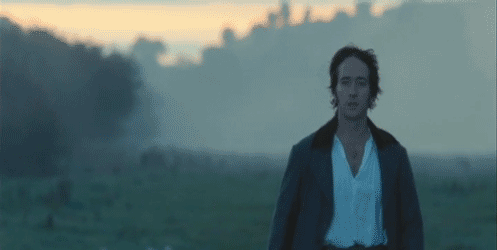 . . . and admits that he still loves her.
(We'll just ignore how stupid and awful Lizzie's response is and skip ahead to this adorable look.)
And of course, the Happily Ever After.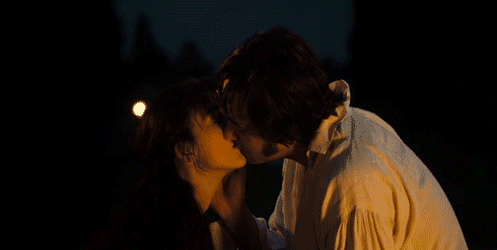 I hope you enjoyed this gifalicious tour through one of my favorite movies. I know many similar gifs probably exist on the web already, but I created these myself. The point was to practice, so I did. I confess, I feel like a foolish fangirl, obsessing over the tiniest looks and expressions, but it's also kinda fun. Hope you think so too.