Oh my goodness, readers! I've really fallen down on my goal of posting to my blog every week, but it's been a really busy few weeks. A lot has happened in the past month—in fact, I've been away from home for much of it—and I want to write about it all. But for now, to paraphrase the brilliant John Oliver: Just time for a quick recap of the month.
So what have I been doing? A lot! You may recall back in February I was working on a big, complicated sewing project in preparation for the JoCo Cruise. I'm happy to say I've successfully finished the project (though I need to buy a better tool for part of it and replace the one I used). I've even worn it TWICE, and it was a big hit both times. 🙂
So what is it, finally? Some of you guessed right, often based only on the color: it's a Tardis dress! A sort of 19th-century looking version, designed by LoriAnn Costume Designs, and I love it. I think it came out really well, mostly, and I love how it looks. (The "mostly" is because I bought eyelets instead of grommets, not knowing there was a difference, so I want to replace them.) I'm pleased with my renewed sewing skills too—it was definitely complicated, perhaps more than it needed to be. I'm also grateful to LoriAnn herself for answering a few of my questions over email, not to mention the great design! Thanks LoriAnn!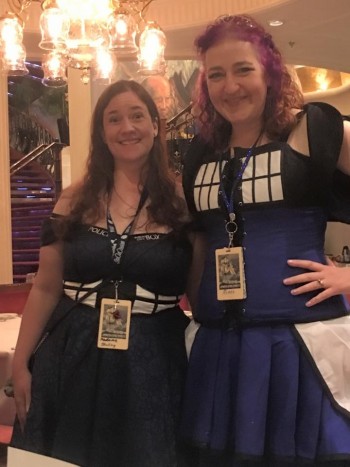 I wore the dress on the first Formal Night of the JoCo Cruise (I wore my regency gown on the second), and then again on March 6, for the Victorian Tea and Dance Society's Alice in Wonderland Tea Dance. I know the Tardis doesn't technically have to do with Alice in Wonderland, but it's that fantasy take, and it's fun. Plus, this awesome t-shirt would beg to differ. 🙂 I really need to get myself one of these.
So, we know about that now, but what about the last few weeks?
The week of February 18, I was busy getting ready for the cruise. Perhaps not the best excuse for not doing a blog post, but such is life. There was lots to do, including finishing my Tardis dress.
February 19 through 28 was the JoCo Cruise, sans Internet and everything. And of course, that's the week my article was published in LA Weekly about the Jane Austen Evening I mentioned recently. But I asked some friends to help me promote it before I left town because I knew I'd be lacking in Interwebs access.
The week of February 29th, after returning from the cruise, I had two deadlines for CheerProfessional that I was assigned a few days before leaving for the cruise, so those had to take priority. In addition to generally catching up and recuperating, I was also preparing for the Alice in Wonderland Tea Dance, at which I taught a schottische workshop (the schottische is a really fun turning dance for couples). My calves were sore for a good five or six days after that.
I had some very bad news that week too, on that Saturday, March 5th: my dear, sweetest boy, Tiger, passed away from cancer. He was old, 17 or 18 or so, and lived a good life, but it doesn't make it any easier. He was my beautiful loving boy and we miss him terribly.
Then on Tuesday, March 8, I flew to Boston for the Society for American Music conference, which was wonderful. Since I used to live in Boston, I caught up with old friends too, some I haven't seen in 10-15 years. I always enjoy going to the SAM conference and seeing my friends and family. My good friend Carolyn, who I spent a lot of time with this year, calls it her SAMily. And it's definitely a family event for me: My father was one of the founding members of the Society, so he and my mom usually go (and kindly put me up in their hotel room). But I spend most of the time with my friends, who I often only see there—including my good friend Jess, who actually lives an hour away in Long Beach (such is Los Angeles life). There's more to be said about SAM too, of course, including some interesting papers and sessions, but I'll leave it there for now.
But the fun didn't stop there: this past weekend (March 19-20) was BinderCon, the conference for women writers taking place at UCLA—which was just written about in LA Weekly. There's also this cool video about it by a colleague. I went last year and it was amazing, and this year didn't disappoint, even though I was really tired from the month's activities.
I admit I've been moving very slowly these past two weeks, now that I'm back and things are starting to calm down. I'm tired and just feel I need to take it a little easy, but I also know there's lots to catch up on. I'm falling behind on my yearly goals too, so I need to get back on track soon.
So that's what I've been up to lately, in a very small nutshell. I hope to write more about all of these things in the coming future. I didn't take many pictures (or any, at SAM, grr), but I'll share the few I took… Once I get the replacement battery charger for my camera and can get my pictures off there. So check back for that! 🙂
So how has your month been? Enjoying conference season? I hope it's a bit more sane than mine was.