I have to figure out what my fascination is with Younger, the sitcom on TV Land starring Sutton Foster. Foster plays Liza Miller, a 40-year-old divorced mom who pretends to be 26 to get a "Devil Wears Prada"-like assistant job at a publishing company. Liza's Miranda Priestly is Diana Trout, played by the wonderful Miriam Shor (who I knew in college and follow her career closely), and Hilary Duff plays her co-worker and new best friend Kelsey Peters. The whole cast is great. Sutton is wonderful, as she always is, and parts of the show are fun, but I have serious issues with it. I have the same approach to Younger as I did with Glee.
I was so excited about Glee, from the time I first heard about it. I love musical theater (also why I love Sutton Foster), so of course I expected a lot from Glee. I also missed the preview airing of the pilot, back in May 2009, so my expectation got even higher as I waited the long summer to finally see the premiere episode that September.
I was immediately disappointed. It was overproduced, overwrought, overly dramatic, and highly inconsistent. It was nothing like I expected, and I wanted it to be so much more.
That wouldn't have been so bad if I had just said, "Ok, it's not what I want. Moving on." But no. I kept looking forward to it. I kept waiting for it to get better and to be what I hoped it would be. I got excited about upcoming episodes, and I followed the characters. To be fair, it wasn't all hopeless; there are a few things I enjoyed about it, and some episodes were very good. But more often than not, I was disappointed. It took me till season 3 to finally give up.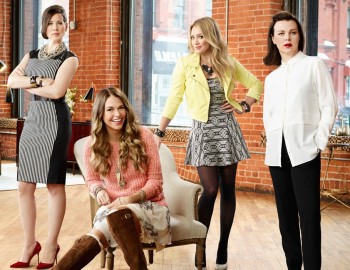 The same thing is happening with Younger. I get excited about it. I look forward to watching it and following the characters (especially Liza and potential love interest Charles (Peter Hermann)), and I watch it almost as soon as it airs. Yet frequently, I'm disappointed with the result.
My biggest complaint is that it seems so obviously written by a man (likely creator Darren Star), as opposed to the author of the novel it's based on, Pamela Redmond Satran.* There's a lot of sex in it, and not as much feminism as I'd thought—or perhaps sort of a backwards feminism, such as women asserting their power in the world by flashing their bosoms on social media. (Maybe that's a real, age-difference thing that I simply don't get.) There was an episode a few weeks ago that was great, because it dealt with Kelsey's bout with Imposter Syndrome. But most of the episodes are not like that. My colleague Lauren Paige Kennedy summed it up really well in her article about why Younger is a missed opportunity, and I agree with everything she says.
(*Incidentally, Redmond Satran presented at BinderCon last weekend, and though I didn't attend her session myself, I heard that she's currently trying to pitch episode story ideas to Star in hopes of joining the writing staff of the show. She's essentially auditioning to work on her own show! If that is not the saddest indication of the current status of women in Hollywood writing rooms, I don't know what is.)
The show also takes a number of ridiculous moments and wacky turns, often in attempts to keep Liza's secret. (Spoilers ahead.) For example, in the episode two weeks ago, Liza confronts Kelsey's boyfriend Thad about cheating on Kelsey, and Thad responds by threatening to reveal Liza's secret. Instead of forcing Liza to deal with her situation, the writers kill off Thad in a freak construction accident! What? That seems like such a cop out, and a lazy excuse for allowing the main character to keep the status quo instead of dealing with the problem.
Perhaps my biggest issue is that I'm getting more and more used to the fact that I am in my 40s (not to mention starting a new career at this age), and I'm proud of myself for making it this far. I'm adjusting to the idea of being happy in my own skin, and with my own age bracket, and I'm feeling less of a need to fit in with a younger crowd—though I confess it sometimes depends on the situation. (There are some publications I'd like to write for, for example, that definitely skew younger, so I do think about that.) I've been through a lot in my life, as we all have, and it's sad to think about giving all that up to pretend I'm someone I'm not.
So I want Liza to feel the same. And I want her to be with the more age-appropriate Charles, rather than her 26-year-old boyfriend Josh (even though Nico Tortorella is very cute). I think that's the main issue: I want Liza to be someone I can relate to (a woman in her 40s in a millennial world), but instead she's someone I don't fully understand.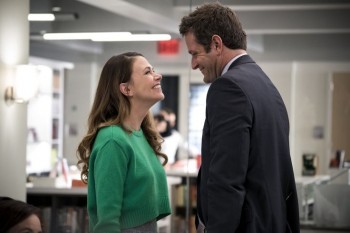 Younger aired its second season finale last Wednesday, and I'm actually mostly satisfied with it. Premieres and finales are often better because they deal head on with character decisions and overarching stories, not filler subplots that stretch out the mid-season episodes. It was certainly interesting and unexpected (spoiler!) that Charles finally kissed Liza, quite out of nowhere. (I'm obviously #TeamCharles.) Yet, as surprised as I was, I also found it too impetuous and slightly out of character for him. He had just offered Liza her job back; shouldn't he consider the implications of dating his employee, especially one who's (supposedly) so much younger than he? (Uh-oh, I hope that's not why he likes her. I don't think so, but I wonder if he'd be less interested in Liza if he knew her real age.) It's fun and romantic that he didn't think about this, but that's why it seems out of character.
Is it ridiculous for me to want to essentially reject the primary concept of the show and have Liza come clean to her workmates and friends about her age? I personally think it might be a better show that way. She's already impressed them enough that I think they could accept her as she is, perhaps after an adjustment period. And there are other shows that have outgrown their titles (Cougar Town, Undateable, Two and a Half Men) that it would be fine for this to evolve past the original conceit too.
I'm not ready to give up on Younger just yet. There are still things about it I enjoy (mostly Charles). I think my main issue with being disappointed with these shows, be it Glee or Younger or something else in the future, is that I go in expecting one thing, and when I don't get it, that's where the disappointment comes in. With Glee, I expected musical theatre and realistic rehearsals, and got pop music and soap opera drama. With Younger, I expect feminism and strong women, and instead get silly situations and sex. Perhaps it's my own fault for expecting too much.
What do you think, readers? If you watch Younger, what do you think of it? Are there shows you watch and are excited about, even though they disappoint you?