Last weekend was such a busy weekend! But it was also really fun. I went pretty much nonstop, dancing and teaching all weekend. It was great, because I've wanted to get back into both of those activities, and doing so gave me a little burst of always-needed confidence.
I taught two completely different workshops that weekend, one Saturday, one Sunday; and I attended two different Jane Austen dance events. Not only that, I am writing an article about the events (update: here it is!), so I made a point of taking pictures and talking with people. But I still did plenty of dancing. In fact, I didn't think I'd stay for the whole dance on Sunday, but I did.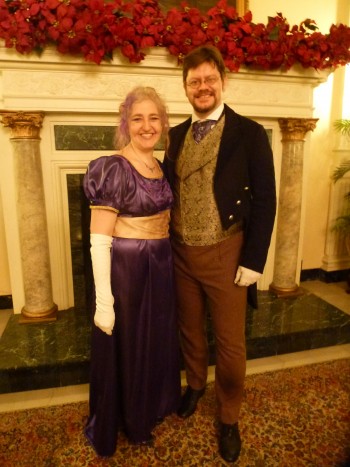 Saturday night was the Jane Austen Evening in Pasadena. I'm excited to say I'm writing about it for LA Weekly, so I'm not going to say too much here now. The event was really fun though. The dancing started at 7 and went to about 11:30 p.m., with four sets consisting of 5-6 English country dances each. Alex attended with me, and happily danced every dance—certainly easy to do, since there are always extra ladies (and the pressure's on at an event like this). I sat out three dances; one because I wanted to be sure to take some pictures, and two others when I got involved in a discussion that might be good for the article. I danced all the others. I also realized that Trip to Tunbridge is my new favorite dance. So much fun, especially if your group gets the timing of it just right!
On Sunday, I taught my second workshop: a regency-era footwork dance workshop, with lots of ballet technique and lots of jumping, before the Jane Austen tea dance. It was great to be in front of a class again, dancing again, and I had a huge turnout—possibly the biggest class I've ever taught, now that I think about it. The tea itself was sold out, with 130 or so people, and 53 of them came to the class! That's pretty dang good! They all seemed to enjoy it too. I heard a few good comments myself, and hopefully the presenters got some good responses too. One of the musicians even took the class, and afterward told me I did "exquisitely." I couldn't help but think to myself, "That's because I'm a professional."
I hope that doesn't sound conceited, or obnoxious, and I hope it's not insulting to the group or the others who teach there. But there's definitely a difference between a teacher who is experienced, and has danced—and taught—for many years, and one who primarily volunteers. There are certain things you learn from training and with experience that you can often take for granted as amateurs. Things like:
knowing not just how to execute the movements, but how to break them down and communicate them in a way that's clear and easy to replicate
knowing how to manage the space and the time allotted to get the best result
understanding what it's like to be a beginner even though it's been years since you were personally there
maintaining a flow in the material so new concepts don't come out of nowhere
keeping count and introducing the music so that it helps them instead of throws them off
knowing how to communicate well and clearly with the students, while keeping the class fun
This is definitely not to say that my class was perfect or I have no regrets. I wish I had done a little more to put everything together and practice it, but I didn't want to go over the allotted time, and we were just about to (It's possible I did, by a few minutes). But the class went well except that.
I haven't really taught a class in a long time, and I've taught three in the last two weeks. It's felt really great, and been very empowering. I always wrestle with self-confidence, but teaching and dancing are two things I know I'm good at, so it was great to practice both again, and to recognize those abilities in myself again. Even better, my class on Saturday was in something I've never taught before: building a website. It was a great experience, one that I'm hoping to write about elsewhere (hopefully for money, what a concept!).
And now I'm scheduled to do more teaching! My Saturday morning website workshop was so good that we decided to meet again in a few weeks (at least the few of us who were there Saturday). And Darlene Hamilton, who runs the Victorian Tea & Dance Society (the group that held the Austen Tea Dance last Sunday), asked me to teach before their March Alice in Wonderland Tea, and scheduled a Ragtime workshop that I'm teaching in May! There's really a great community of Vintage dancers here in LA. There are a few different groups, but they really support each other and help promote each other. It's pretty awesome.
So while this of course means more work, in lesson planning, marketing, and other preparations, I'm looking forward to doing more teaching in the future. It was one of my goals for 2016, and hopefully I'll make a little money from it too. 🙂
So how are you all doing? Have you gotten back into something that you know you're good at? Quite a boost, eh?