It's been a rough couple days for most of us. I'm not sure how to react to recent current events, and at this almost mid-point in NaBloPoMo, I'm tired. So I've decided that we could all use some silly cats for today's NaBloPoMo.
Alex and I are big fans of the show American Ninja Warrior, the huge, nearly impossible obstacle course reality show, so when our #CrayCrayCowKitty Arya decided to pull a ninja-like stunt in our courtyard, we recorded it.
We often have breakfast in the courtyard in our apartment complex and Arya once got the idea to climb up into the umbrella on the table. Once she got up there, she wasn't quite sure what to do with herself. Or how to get down.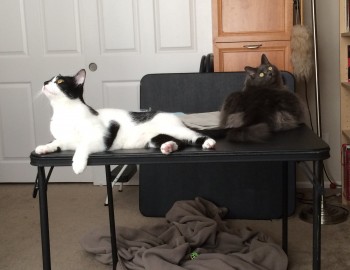 She's a silly girl. With an incredibly appropriate name. Alex is really good at naming cats, apparently. He's good at assessing their personalities and finding the right pop culture-related name for them. Even more, as they grow older, the names we chose seem even more appropriate. Arya (from Game of Thrones) and her sister Leeloo (from The Fifth Element) both absolutely embraced their names.
So I know this is rather silly and frivolous, especially when there's so much else going on in the world, but that's why I wanted to do this. We could use a little mental break today.
I hope you enjoy it. Take care of each other and be well.