E! (and others) reported recently that singer Nicki Minaj apparently offered to speak to the students of her high school alma mater, but the principal declined her invitation. There isn't enough information in this article to say why they declined, and it sure sounds like Minaj is a bit butthurt (and she's got plenty of butt to hurt! Ok, bad joke, sorry). She's certainly disappointed, which I can understand, saying "I guess I'm not good enough," but turns out there's much more to the story. Isn't there always.
While I didn't set out to talk about the situation with Minaj, I do have thoughts about it—and I won't just tease that "more to the story" tidbit and not deliver. This is not the Lost finale. But I'll get back to it shortly.
Minaj's alma mater is also mine. We both went to LaGuardia High School of Music and the Arts in New York, aka "The Fame School," though I was there a long (looong) time before she was. The dear sweet child graduated in 2000. How quaint.
I was in the first graduating class of the school, after the city joined the High School of Performing Arts, down on 46th street, and The High School of Music & Art, way up on 136th street, into one new school behind Lincoln Center (66th Street and Amsterdam), so that it could be associated with and take advantage of the wonderful arts complex there.
Music and Art offered just that: music (vocal and instrumental) and the fine arts (painting, sculpting, visual design, etc.). Performing Arts had dance and drama, as well as music. The new LaGuardia features all five departments: dance, drama, instrumental music, voice, and art.
I love musical theatre, so I wanted to be the ultimate triple threat. I auditioned for all three: drama, dance, and voice, though dance is and will always be my first love. Alas, I was only accepted for voice, but that was enough. Hell yes, I was going. Anything had to be better than my local high school.
My local high school promised to be exactly like my local junior high school; in other words: Hell. I was teased (now we'd say bullied) from kindergarten through grade school into junior high, and I hated every minute. I had a few friends, fortunately, some of whom were even kind and loyal and actually liked me, but there were many others who were just cruel and mean. I refused to go to my local high school, especially with so many other options just a subway ride away. Even more so when the school presented a chance to study what I loved.
It's clear from the E! article that Minaj had a similar experience to the one I had. She says she wanted to speak at the school because it changed her life. "It was the first time I felt like I really fit in," she's quoted in the E! article. She felt accepted there. She gained confidence and power to pursue the life she wanted (which she appears to have succeeded in doing), and she wanted to "pay it forward."
When I went, I also felt accepted for the first time in my life. I call it a school for outcasts. Not that this is the only one; I firmly believe that most specialized high schools, like Bronx Science, where my brother went, or Thomas Jefferson High School of Science and Technology in Washington DC, where my husband went, offer the same sorts of freedom and acceptance to us nerds. Those of us who were constantly made fun of because we were different. Because we were smart or artistic (or both). Because we loved ballet or music or science, instead of sports or cheerleading. Because we would go to more classes or clubs after school instead of going to the mall (or whatever kids do). Because we would wear flowery skirts and Converse sneakers instead of Guess jeans and a stupid Gucci clutch handbag that frankly looked like a suction-cup bathtub mat turned inside out (am I the only person who remembers that monstrosity?). I'm so grateful for LaGuardia for rescuing me, and giving me the courage to be the person I wanted to be inside.
So I certainly understand why Minaj would want to speak there. This article doesn't provide enough information to defend the school, but I feel pretty sure that their declining was not a reflection on Minaj. In fact, I assumed Minaj wanted to address the graduating class, but with a reread, it sounds more like she just wanted to pop in and say hi. There's certainly no information here on when she tried to schedule anything (how far in advance) and when they replied.
If she did want to schedule something official, perhaps they already had speakers scheduled for the next few years and there wasn't room in the calendar. Perhaps they have a quorum of sorts that they try to stick with, maintaining a variety of speakers that reflects the school's five artistic subjects.
Or perhaps, it is a reflection on her. I'm not saying it would be right, but I can see how an educational facility might not want to promote her image. Personally, I don't love her latest video, Anaconda, but I think I'll leave my thoughts on that for another blog post.
Still, that's not reason enough for the school to turn away an offer from someone of Minaj's undeniable success and acclaim—and turns out, it's not. One of my former classmates contacted the school and found that she wanted not just to speak to the students, but to film there as part of her publicity tour. I believe the Department of Education when they say Minaj's visit would disrupt learning—their real reason for declining—and I respect them for upholding that. When they invited her to talk to the students without cameras, she declined. Clearly her appearance was more about her publicity than paying it forward.
Here's the post from my colleague's Facebook page:
Here's LaGuardia's official letter to their community: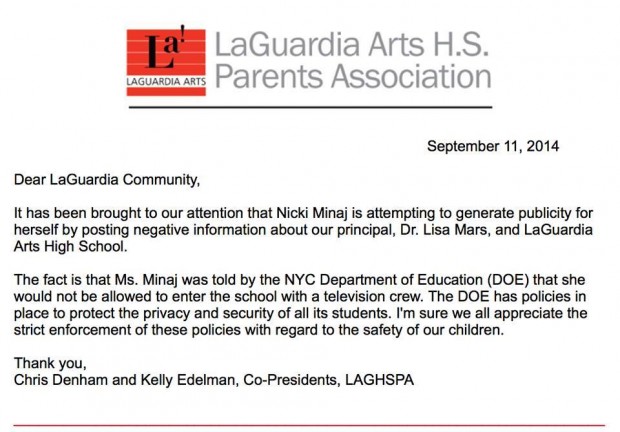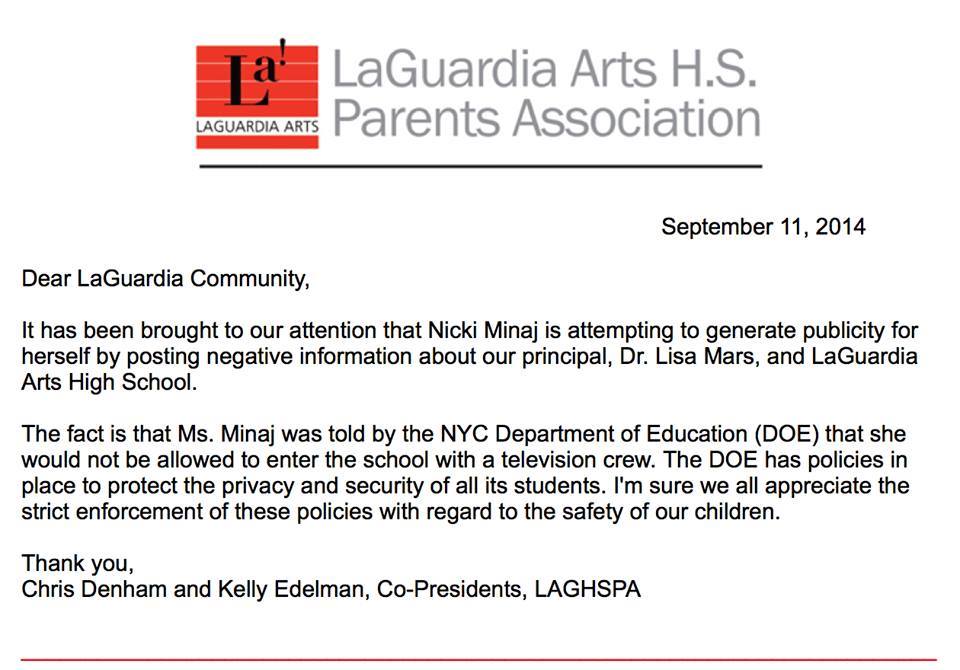 I'm sad that Minaj feels she needs to use her twitter account and the resulting press to make the school look bad or try to get what she wants. That doesn't show respect for an institution that supposedly changed her life. I'm grateful for the experience I had at LaGuardia, and if she truly were too, I'd hope she'd want to respect it by telling the whole truth, or just leaving it alone. Making it about her certainly is butthurt, and it may turn around and bite her in the ass even harder.
Alright, enough with the butt jokes.