Finally! Last week Disney released a slew of new promotional material for the upcoming movie adaptation of Stephen Sondheim's classic musical Into The Woods, and I couldn't be more excited (and scared)!
There's a series of new posters, and they're animated!
(If you look carefully at the background, you can see it's moving.)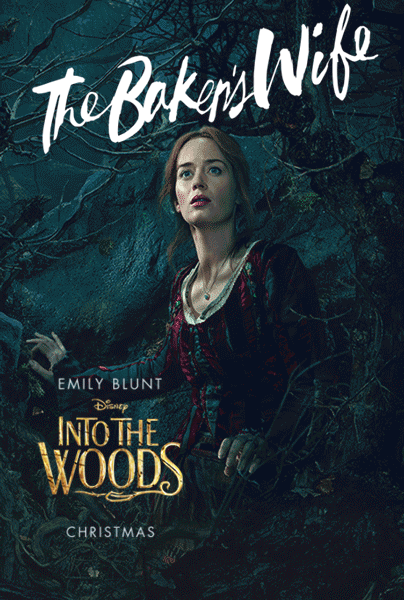 There's a brand new trailer, and it includes singing!
Why should I be so surprised that the trailer for a musical includes singing? Because the previous trailer and teaser spots didn't have any. If you weren't familiar with the show, you probably wouldn't have known that the movie was based on a musical at all.
But they've finally remedied that. Hooray!
It sounds great too. Just starting with the vamping and the walking baseline, it's instantly recognizable as the music we know and love, and then the chorus comes in and it's delicious. And makes the darkness of the woods seem not quite so dark. There's actually some color!
I have my trepidations too, of course, like many other theatre geeks. I too have my concerns about Johnny Depp's wolf costume, which is a bit strange, to say the least. Knowing what they're aiming for—they used the Tex Avery cartoon wolf as inspiration—I understand and can see it, but it seems a bit out of place, anachronistic, with what the other characters are wearing. But I trust Depp to bring his best to the role and make it stand out. It worked for Sweeney Todd; it can work here too.
As handsome as Chris Pine is, he doesn't do much for me personally (I always go more for the nerdy guys). He looks good as Cinderella's Prince—though the trailer spoils his best line. I just hope he can sing.
I am excited to see James Corden as the Baker though. He's won a Tony Award, for Pete's sake, for One Man, Two Guvnors. He's also great as the Doctor's friend Craig in those two Doctor Who episodes ("The Lodger," one of my favorite Dur Who episodes, and "Closing Time"). I have all my faith that he'll be amazing.
I'm also thrilled to see Emily Blunt and Anna Kendrick, as the Baker's Wife and Cinderella, respectively. Anna's proven herself again and again as a singer, and while I don't know about Emily's singing prowess, I know from The Adjustment Bureau that she's a beautiful dancer, and a great actress, so it's not hard to assume she's a triple threat. Let's hope so.
The Moms are just as exciting as the kids, with Christine Baranski as Cinderella's mother, and Tracey Ullman as Jack's. Christine is brilliant, of course, but where has Tracey been lately? Feels like we haven't seen her in a while.
By the way, Lucy Punch plays Cinderella's stepsister Lucinda, a role she's familiar with: she's played one of Ella's evil stepsisters in at least two other adaptations of the story (including Ella Enchanted).
Movies can do much more than is possible on a stage, and they seem to take advantage of it here. There are moments of pure action, with an actual beanstalk growing in the garden, and the enormous Giant's hand grabbing the branch where Jack sits. And a real cow!
As amazing as Meryl Streep is, and as great as she looks, her voice worries me a bit. It sounds a little weak and breathy, and let's face it: I'm still a bit scarred by Mamma Mia!.
With original creators Sondheim and James Lapine and original musical director Paul Gemignani all involved, I'm hopeful that they'll keep it largely in tact. Sondheim promised as much when the discussion arose back in June. But Disney is producing it, so they may feel a need to take out some of the sexual undertones. They clearly subdued the wolf's costume—but it's not too hard to see why they'd do that.
I'll probably be there on opening day, Christmas Day, hopefully with my family in tow (most of them love musicals too, so it's likely). If not, I'll probably have to leave them behind. I mean, priorities! Come on!
I've been a Sondheim fan since I was in high school, and I saw the original production four times on Broadway (and yet never with Bernadette Peters, sadly). I remember how exciting it was to walk up to the theatre with the giant boot slung over the top. I instantly loved the show, and I'm thrilled to see it get a theatrical treatment.
I just really hope Disney doesn't muck it up.
How bout you? Are you "excited and scared" too? What are you looking forward to from the trailer?