Despite the dominance of computer-generated animation everywhere, Burbank-based animator Alex Bradley is doing his best to keep traditional 2-D cel animation alive. He launched a November Kickstarter campaign to raise funds for his latest project: the newest in a series of annual, commemorative animated videos.
In 2011, Bradley and his wife, Renée Camus, attended JoCo Cruise Crazy, a special themed cruise co-hosted by Internet musicians Jonathan Coulton, or JoCo, and Paul and Storm (both of whom funded their own successful Kickstarter projects this year). Bradley created an animated video to honor that first cruise. When the cruise became an annual event, Bradley's videos did as well. All three videos celebrate an earlier style of animation.
The first two videos pay homage to the classic 1970s and '80s television shows, Superfriends and He-Man, respectively, recreating the opening credits but with Coulton, Paul and Storm, and other musicians and comedians in the leads. Last year, Bradley created a fully unique video using the Internet personalities, but celebrating the Japanese anime style (see below).
For the new video, Bradley takes on the king of both 2-D and 3-D animated styles: Walt Disney. Again recreating an iconic scene, Bradley plans to homage the opening song from Disney's "Beauty and the Beast."
"I went to Disney first because it's another recognizable style that I wanted to emulate," says Bradley. "That's a running theme of the videos. They harken back to earlier styles of animation that I love."
It's also a bigger challenge than any of the previous videos, which is where the Kickstarter comes in. The Disney style is not just iconic, but beautifully rendered and pain-stakingly drawn.
"When Hanna-Barbera and Filmation used their styles back in the day, it was to save money," Bradley explains. "They reused poses and backgrounds, and cut corners wherever they could, whereas Disney makes every frame unique and lavish. They don't reuse anything—which makes my job imitating them that much harder."
While Disney of course uses teams of animators to create a single scene, Bradley will do this on his own. In addition to the animation, he and his wife will be re-writing the music and lyrics for the video, and recording it themselves. In the meantime, they're calling on fans—of Bradley's, of Coulton and Paul and Storm, of animation—to help raise the $8,000 requested in their campaign, which ends on Saturday, November 30, 2013.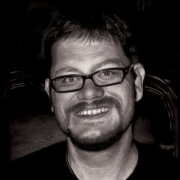 Alex Bradley is an award-winning animator, illustrator (buy a print!), and motion graphics artist, and the author/creator of the web comic "Miskatonic U," based on the writings of H.P. Lovecraft. This is his self portrait (yes, it's a drawing).